Jade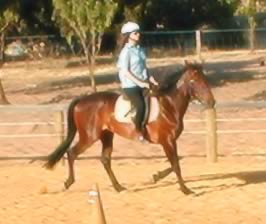 My very first trot on Jade, December 7 2002.
We found Jade through the same lovely lady who gave us Thumper. She said that if we didn't want Jade then she herself would take her, which was quite a recommendation!
Jade was five years old and only a couple of weeks off the track when we first saw her. She was being retired due to a bowed tendon. I didn't ride her at all but after seeing photographs and a discussion with her owners, I decided she was the horse for me, and I haven't looked back.
She's a real character and at first was a typical alpha mare, terrorising Thumper who always hovered behind her. She is a female through and through — totally unreasonable!
Then all of a sudden, about six months after she arrived, Thumper took over leadership and Jade became much sweeter — and Thumpy became a monster, but that's another story!
Jade has a sensible, willing, sweet and smoochy nature and is very easy to train. She learns more quickly than I do!
She is lovely and soft to ride, and together we're learning as we go. With luck and hard work, we are hoping to show one day.