Thumper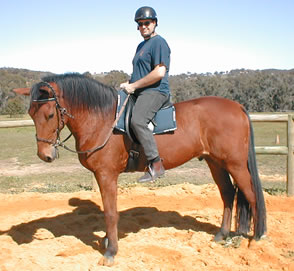 Andy on Thumper
Thumper is a 16hh-ish, bay (what a surprise!) Standardbred gelding.
He joined us in May, 2001 as a 13-year-old (same age as Rani). We needed both a companion for Rani, and a riding horse for Andy. We got him through the WASBA (Western Australian Standardbred Breeders Association) Show Committee and we fell in love with him at first sight. He has become very precious to us in the time we have known him.
A harness-racing trainer friend told us once that Thumper can be "a bit of a rogue" but he's an endearing one and there is something kinda sensitive and vulnerable about him, that makes us want to look after him and protect him in a special way.
He now rules the roost at Vanda Park and leaves the other horses in no doubt of his leadership! But to us, he is gentle, kind, handsome and a true gentleman who is a pleasure to have in the family.